Get The Required Training You Need To Excel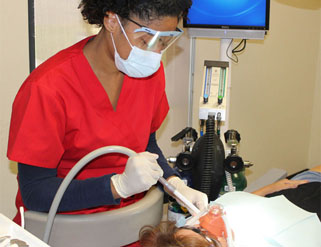 Aspire Dental Assisting School was founded to provide a thorough accelerated training program that allows students to complete an approved dental assisting course in just 10 weeks. Located conveniently in the Dallas are, our comfortable learning environments position you to succeed as a dental assistant in private or specialty practice dental offices.
The Aspire staff brings decades of real world experience to the classroom. Our director has been a practicing dentist for over 10 years and has experience as a clinical instructor. Our lead Instructor has been a dental assistant for over 25 years and is a certified CPR instructor.
A Great Dental Practice to Enhance Your Training
Aspire Dental Assisting School utilizes a great Dallas dental practice location for classroom teaching and testing as well as hands-on training.
Classroom Setting and Testing Center
The classroom and testing portion of the curriculum is hosted at Robinson Dentistry, 8940 Garland Rd. Ste. 200, Dallas Texas 75218. The state-of-the-art training room includes large screen projection technology to enhance the teaching and learning experience.
Clinical Training
The clinical, hands-on, chair-side training will also be focused on in at Robinson Dentistry, with Dr. Dena Robinson.
Fully compliant with State of Texas regulations, Aspire Dental Assisting School prepares graduates to pass the required tests to become certified, registered dental assistants in the State of Texas. Upon completing our fast-paced course, you are granted a Certificate in Dental Assisting. Effective September 1, 2006, registered dental assistants must also complete a short course approved by the Texas State Board of Dental Examiners (TSBDE). The provider list can be found on the TSBDE Web site: http://www.tsbde.state.tx.us.
By law a dental assistant must register with the Texas State Board of Dental Examiners in order to take X-rays at a dentist's office. Aspire Dental Assisting School grants equal admission and training opportunities to qualified persons without regard to race, color, sex, religion, national origin, or any other characteristic protected by law. We are approved and regulated by the Texas Workforce Commission and Career Schools and Colleges, Austin, Texas.