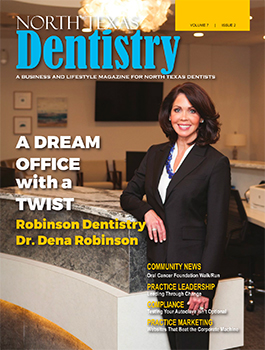 Robinson Dentistry is is honored to be featured in this month's edition of North Texas Dentistry Magazine!
Volume 7 Issue 2 of North Texas Dentistry highlights Robinson Dentistry's new, state-of-the-art dental facility that exhibits the latest advanced technology, a spacious open feel and warm and welcoming decor. Dr. Robinson says of her new dream office, "This office is better than I could have ever imagined. We don't ever plan to leave here because it is a perfect fit for us and for our patients."
Also highlighted in the article is how our new dental facility enhances our ability to operate our Aspire Dental Assisting School. Aspire Dental Assisting School is a TWC licensed school for students pursuing a career in dental assisting, while gaining valuable, hands-on training in an actual dental environment.
Read the full, online version of this article in North Texas Dentistry Magazine by CLICKING HERE.